From The London Review of Books:

The objects collected in Curiosity are – to put it mildly – varied. They range from blown-glass models of sea creatures, made by Leopold and Rudolph Blaschka between the 1850s and 1890s, to a collection of agates, alabaster, quartz and jasper put together by Roger Caillois, a collaborator of Georges Bataille and Michel Leiris, to a vitrine displaying tiny artworks made from split lengths of human hair, collected by the artist Susan Hiller, to Richard Wentworth's snapshots of traffic cones or abandoned gloves or old boots.

Part of the pleasure of the cabinet of curiosities is, of course, that 'curiosity' has two meanings: the ideal Wunderkammer is an assembly of curious things collected by curious people. And some of the freakiest things in the show represent both kinds of curiosity at once. There's an impossible-looking series of photographs of popes and bishops looking through telescopes: it's hard to imagine a more recherché subject for a collector. They were all found by Laurent Grasso, who trawled through the Vatican archives for any pictures of pontiffs handling astronomical instruments. There's no clue as to what the clerics are actually doing. Studying? Posing? Disapproving? Looking for God? And then there's Nina Katchadourian, who spent a few years photographing fellow passengers in the aeroplanes she was travelling in: intrusive, nosy, curious, she was a collector of sleeping strangers. Also on display is her series of self-portraits taken inside aeroplane lavatories, done 'in the Flemish style'. From a distance, she indeed looks like a figure in a Flemish painting wearing headdress and ruff; up close, the headdress reveals itself to be a white vest draped over a curved cushion balanced on the artist's head, and the ruff a series of paper tissues tucked into the neck of her top.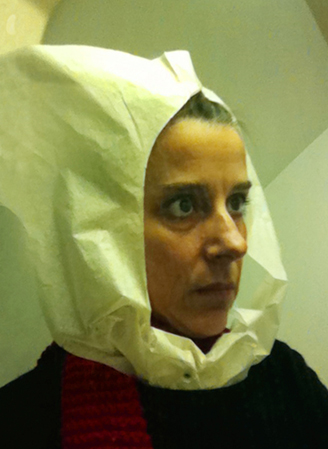 Have you ever wondered why other passengers take so long in the aircraft loo?


CURIOSITY: Art and the Pleasures of Knowing
28 September 2013 – 5 January 2014
Curator Brian Dillon says:
Like the cabinet of curiosities of the 17th century, which mixed science and art, ancient and modern, reality and fiction, this exhibition refuses to choose between knowledge and pleasure. It juxtaposes historical periods and categories of objects to produce an eccentric map of curiosity in its many senses.
This is an exhibition devoted to wonder, awe and mystery in contemporary art and beyond. It draws on the rich tradition of the Wunderkammer or cabinet of curiosities, reveals surprising meetings between art and science, and explores the ways that artists today mine themes of fascination, inquiry, obsession, monstrosity and invention. Its content ranges from seventeenth-century collections of manmade and natural wonders to key works by contemporary artists such as Aura Satz and Pablo Bronstein.

Curiosity is among our most ambiguous impulses. It is at the heart of scientific discovery, artistic exploration and technological innovation. And yet it is also a sin or scandal: for centuries curiosity was condemned for its impious interest in secrets that belonged to God, and we live today in a world of surveillance and public confession. This exhibition gives free reign to curiosity in its many senses, contriving a kind of modern Wunderkammer in which awe, the desire for objective knowledge and a sense of the sheer strangeness of the world of things can cohabit. The show will not shy away from the more prurient or scandalized sense of curiosity.

The exhibition brings together artworks and artefacts from five centuries of rigorous inquiry and delightful strangeness. Drawing on the collections of major museums in the UK and abroad, it includes examples from cabinets of curiosities of the seventeenth and eighteenth centuries, paintings and drawings that reflect not only the curious mind of the artist but the collector's immersion among oddities and wonders, and specimens from medical and natural history.

The focus of the exhibition will be on the ways that recent art has engaged this earlier history of curiosity and its contemporary forms. It will include works by such artists as Nina Katchadourian, who conceives of her work as a form of heightened 'attention' (a key term in the show) and Katie Paterson, whose explorations of astronomy and related sciences maintain a strong sense of wonder. Among others whose work responds to the questing and wondrous spirit of the exhibition are Gunda Förster and Laurent Grasso.

Curated by writer and critic Brian Dillon, the exhibition has been originated by Hayward Touring, organized in collaboration with Turner Contemporary. It is produced in association with Cabinet: a quarterly magazine that playfully crosses the boundaries between art, science, literature, history, philosophy and popular culture.

Please visit What's On pages for a range of events associated with Curiosity: Art and the Pleasures of Knowing. The Norfolk and Norwich Millennium Library is also hosting several events during the exhibition, please visit their website for details.