From Norwich Playhouse:

Tickets for this event are unavailable because, according to the box office, there was an early demand.
Although Norwich Playhouse seats only about 200, this was still an unusually rapid sell-out.
Here is what we are missing:
The Racist: Trevor Noah
Fresh from a record-breaking season of shows at London's Soho Theatre and a critically acclaimed total sell-out season at the Edinburgh Festival Fringe, South African comedian, Trevor Noah is proud to present his critically acclaimed show, The Racist, on a ground-breaking tour of the UK.
Trevor has been performing for a little over five years but his explosion onto the South African entertainment scene has been nothing short of meteoric, taking on TV, radio and his first love, stand up comedy, which he has performed on both local and international stages including the UK and US. His sharp wit, intelligent commentary, unmistakable charm and clinical delivery have established him as an extremely popular performer with undoubted world-class potential.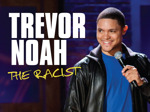 Trevor is a South African comedian. He has hosted numerous television shows in South Africa, including the country's music, television and film awards, the South African Comedy Festival, and two seasons of his own late night talk show. He is also the subject of the award-winning film Township To The Stage which tells the story of his remarkable career in post-apartheid South Africa. Trevor has also enjoyed sell-out success at Edinburgh.

'Noah is an immensely likeable performer – warm, upbeat, with and inquiring, irreverent approach to other people's prejudices... we can expect to see a lot more of him over here (The Observer)

A handsome, effortlessly engaging polyglot... fascinating and frequently hilarious... for someone so persecuted by language's prejudices and limitations, Noah demonstrates a mastery of it, standing out chiefly for his considerable talent' (The Scotsman)


'You can see what prompted Eddie Izzard to want to produce him here... he performs with remarkable poise, scoring plenty of hits... a great entertainer' (The Times).

'Slick, intelligent, blissfully funny... this is insightful, warm, classy comedy' (Time Out)