From the Huffington Post UK:
The website of the English Defence League (EDL) was apparently hacked and made unavailable by supporters of Anonymous and ZHC on Tuesday afternoon.

Anyone attempting to access the group's main website, englishdefenceleague.org, was met with an error message.

Anonymous, a loosely organised global network of hackers, had warned the EDL back in March that they would target the organisation.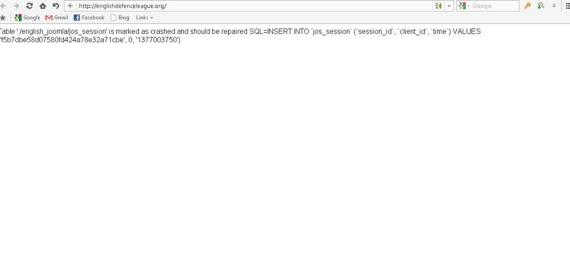 The EDL website On Tuesday Afternoon
To all members of the English Defence League




We, Anonymous, are a vast network and varied consciousness. We are the defenders of free speech and a true shoulder of comfort for the oppressed. We have recently stood witness to your hatred and your use of trolling – not "for the lulz" but to pit human being against human being.
Supporters of Anonymous then released
phone numbers and addresses of EDL supporters and donors.
@Operation_EDL
#OpEDL
#HACKED http://t.co/AU919wYrLN AND REMOVED #OpEDL
August 20, 2013 12:58 pm via web Reply Retweet Favorite

Tuesday's hack was announced by @Operation_EDL one of a number of Twitter feeds operating under the Anonymous banner.


@PublicAnonNews
Public Anon News
Brace Your self: http://t.co/VyK7beeu8S #HACKED, AND#REMOVED! #OpEDL" Great news!! l Via @Operation_EDL l#Anonymous #UK l #StopRacism
August 20, 2013 1:20 pm via GroupTweet Reply Retweet Favorite


@Operation_EDL
#OpEDL
Just to clarify it was Guy_Victory fro ZHC that did EDL hack but he works with Opedl
August 20, 2013 2:07 pm via web Reply Retweet Favorite
Although Anonymous has no definitive structure or philosophy, its numerous attacks generally target oppose internet censorship and freedom of speech.

Also on Tuesday, the group hit back after the partner of the the first journalist to interview American whistleblower Edward Snowden was detained and quizzed by six agents on his "entire life" while travelling through Heathrow.
-----------------------------------------------------------
LATER:
It was up again, down again, up again, and now is down again - oh dear, shame to be messed about like that, still, never mind eh?
*playing world's smallest violin*