People Are Wasting UKIP's Money By Sending Bricks To The Party's Freepost Address

The Eurosceptic party is surging ahead in the polls but its opponents are attempting a form of direct protest. Using, er, the postal service.posted on April 29, 2014 at 7:46am EDT

Opponents of UKIP are sending hundreds of items, including bricks, to the party's Freepost address in the hope of running up a massive postal bill for the party.

The Royal Mail service enables any member of the public to send anything to an organisation with a Freepost address, with the recipient picking up the bill.

When a similar protest hit Nottinghamshire Lib Dems the police said it was not a crime to send bricks to a Freepost address.


1. This is the basic principle of the protest.


3. Admittedly, some people are taking it a bit far.


Ruaidhrí Quinn@RuaidhriQFollow

Sorry UKIP, had to cut mine into 100 pieces to send back to you, hope you enjoy paying freepost for 100 envelopes:)

4. While others are personalising their envelopes.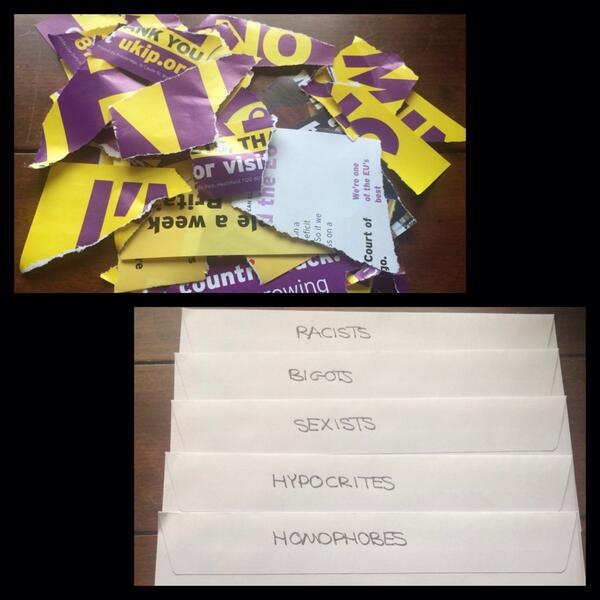 Emma E A Carragher@pinkalarmclockFollow

Freepost is a wonderful thing. #UKIP


5. And others are including some light reading in their package.






Jenny@avengemydeathFollow

I got a #UKIP leaflet today & have returned it via freepost with some extra weight...


6. Some people are including notes to the party and/or defacing the original.


8. And others are personalising the address.

10. Some people are using UKIP's freepost address as a way of clearing out their house.


Dave Smith@ffflowFollow

The UKIP freepost thing works. Just sent them a box of goodies. Should cost them about a fiver.


11. And some people… well, some people are just posting bricks.