Ekklesia, the Christian think-tank has been doing some digging into the status of Robert West.

Jonathan Bartley, writing on Ekklesia's blog, can find no church that will admit that it ordained West, or that he is a member. Bartley does, however, quote the Apostolic Church (that were pointed at previously by the Times as the religious home of West) denying that they have any knowledge of West.

A spokesperson of the Apostolic Church said:
If he were an active member of the Church his views would not be accepted by the Church and disciplinary action would be undertaken by the Church which strongly distances itself from views such as these.
However, this seems a little disingenous of the Apostolic Church, as West is no longer 'active' in the Apostolic Church.

Robert West was first outed as a BNP member in the famous leak of the BNP membership leak of 2008, where he was clearly listed as an Apostolic Church clergyman.

Contacted by The Times (November 20th, 2008), West was defiant - and still seemingly a clergyman in the Apostolic Church:

At the Apostolic Church in Holbeach, Lincolnshire, the Rev Robert West was unrepentant. He said:
I am a member of the BNP since May 2006. That's public knowledge. God has divided the nations for their own good. Every race needs their space.



But I get on with the ethnic minorities. I love them really.
Today the "Reverend" Robert West seems to have no current connection to any Christian denomination apart from the Christian Council of Britain, which he co-founded with the BNP.

Various Christian organisations have denounced the Christian Council of Britain, whilst the BNP's religious tactics have been reported in the Christian press. Back in December 2008, the General Synod of the Church of England voted to ban clergy from joining the BNP.

The thinktank Ekklesia has pointed out that churches need to disassociate themselves from the "Christian nation" rhetoric which the BNP exploits.

A few days ago the Methodist Church has become the first major denomination in the UK to ban all its members from joining the British National Party.

Many Churches also ban clerics from running for political office.

This has not deterred Robert West, although he remains evasive on the subject of his ordination. When questioned, the slippery cleric said: "It's been dealt with once and I don't have to justify myself."

West said he had explained himself and shown his ordination certificate on a TV show in recent months, and said he had been advised "not to go through it all again".

Ekklesia appeals:
Will any church come forward to claim him? Or is this another example of BNP deception? Is his "Rev" status somehow derived from the Christian Council of Britain? And if so, who ordained him if it only has a membership of one?
Mr West, who is bidding to win the vacant Norwich North by-election on July 23, explained to the Norwich Evening News:
Ordination means recognition. It's simply recognition of what you are. It recognises your gifts.
---------------------------------------------------------------------
Update on self-ordained ex- Norwich North MP candidate West:
Reverend Robert West banned over Muslims 'worship devil' remark
12 May 2015 From the BBC section Lincolnshire: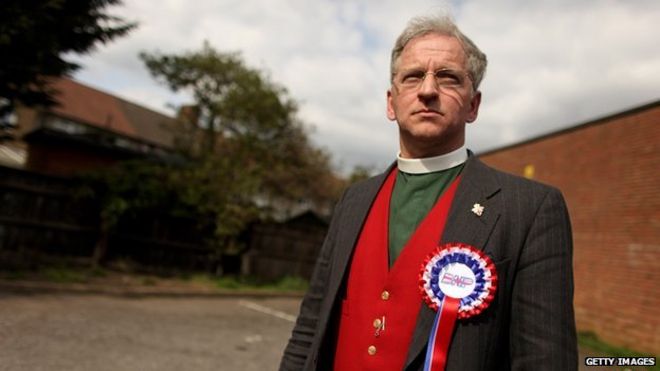 Reverend Robert West, seen here campaigning for the BNP in 2010,

said he made the comments in the context of lessons about the Crusades


A teacher who told pupils that "Muslims worship the devil" has been banned from the profession indefinitely.

Reverend Robert West, who stood as a British National Party (BNP) candidate, made the comments during history lessons at a girls' school in Grantham.

The National College for Teaching and Leadership (NCTL) took action after pupils complained.

Mr West, 59, said he made the comments in the context of a lesson about the Crusades in November 2013.

The teacher has no connection to the Church of England. In 2006, he set up his own church, based in a house in Holbeach, to preach "traditional bible beliefs".
'History of religion'

The NCTL panel upheld claims he had made inappropriate comments to students while working as a supply teacher at Walton Girls High School, Grantham, on 8 November.

The panel said it was satisfied Mr West's conduct fell short of expected standards, and found him guilty of unacceptable professional conduct.

These included saying he was "allergic to Mohammedans".

When asked by a year 12 pupil whether there was anything wrong with being a Muslim he said "yes, because we are fighting them".

During another lesson on 14 November, he said "any non-Christian god is demonic" and "Muslims worship the devil".
'No freedom of speech'

In an email to the school principal he wrote: "It is about time that you put the teacher back in charge ... I am not going to programme my students with utter trash about Mohammedanism - a religion whose textbook, the Koran, has been burnt for atrocities against humanity."

Mr West told the BBC he did make the comments but was trying to show pupils differing points of view and the comments did not represent his own views.

The ruling means he is prohibited from teaching indefinitely and cannot teach in any school, sixth form college, relevant youth accommodation or children's home in England.

He may apply for the prohibition order to be set aside, but not until 12 May 2018.

A spokesperson for the school said its internal complaints process was followed promptly when the concerns were raised about Mr West.

BNP spokesman Simon Darby said:
It is disappointing. We would have liked him not to have had any sanctions at all.





If you step out of line and criticise liberal multi-culturalism then you lose your job, so we don't have freedom of speech.
Mr West stood in the Boston and Skegness constituency for the general election and received the least number of votes.